INSIST ON KUNKEL
For three generations of the Kunkel family, Kunkel Ambulance has supported the public health and safety of residents in the Mohawk Valley, raising the standards of clinical care in medical transportation. Every Kunkel ambulance is staffed with highly skilled, certified paramedics and EMTs trained in critical life-saving protocols.
Our ambulances are equipped with the latest technology, including Zoll cardiac monitoring systems. We work closely with local hospitals and health-care facilities to care for our patients, communicating with emergency departments before our ambulances arrive. Kunkel Ambulance joined the Priority family of companies in 2014 and is proud to be part of a national leader in EMS.
1939
Founder Kenneth J. Kunkel started Kunkel Ambulance out of his home on West Street in Utica with one ambulance.
1960
Second generation Jack Kunkel joins with his father as manager. The service now has two ambulances.
1980
Company becomes a full paramedic service and fleet increases to eight ambulances.
1983
Kenneth retires and company is now owned by Jack Kunkel. The fleet grows to six ambulances. Employment grows. Company moves location from a home garage to a large commercial building centrally located in the City of Utica.
2014
Kunkel Ambulance joins the Priority Ambulance family of companies.
TODAY
Kunkel Ambulance has more than 50 EMTs, paramedics, dispatchers & support staff serving more than 7,000 patients each year with 10 ambulances and emergency vehicles.
Kunkel Ambulance provides 911-emergency and nonemergency ambulance services in the City of Utica and Oneida County in the Mohawk Valley of Upstate New York. We also provided mutual aid services to a large portion of Oneida and Herkimer counties.
New York
Corporate Values
Trust built with communities, medical facility partners, patients and employees is at the heart of our company. We build that trust by infusing into every aspect our core values of S.A.F.E – Safe. Accountable. Friendly. Efficient. When we deliver on our core values, our customers experience the key attributes of service and quality care that present as our employees being professional, courteous and on-time. The consistent delivery of this service over time builds the trust of our community members and customers that is essential to our success as a member of the Priority Ambulance family of companies.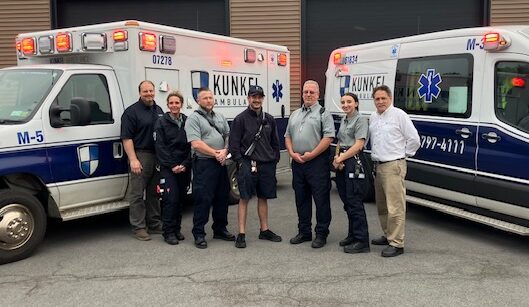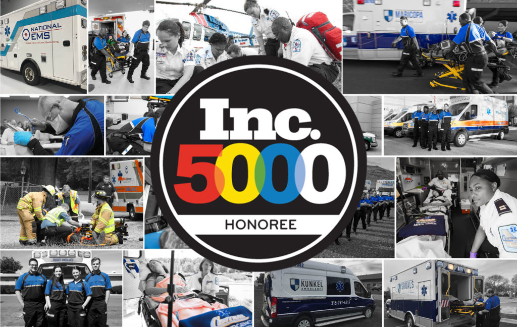 Meet the Priority Ambulance Family of Companies
Priority Ambulance is a dynamic, rapidly growing company with current operations in 13 states. The company has been listed for four consecutive years on the Inc. Magazine's list of the 5000 Fastest-Growing Companies in America. More than half of the company's 610,000 annual patient transports are in response to a public call to 9-1-1, while the balance of our transports originate through requests from health care facilities. Throughout its national service area, approximately 4,100 highly trained paramedics and EMTs staff a fleet of 830 state-of-the-art ambulances and support vehicles with the latest medical equipment and technology.
The Priority Ambulance family of companies has served and built trust in their communities for decades. We believe in the importance of preserving our companies' legacies and cultures by keeping the leadership, company names and brands in place when they join our family. Each local operation is autonomous in its decision-making and is supported with additional capital, resources and expertise from the national leadership team, as well as its sister companies.