Priority Ambulance appears on Inc. 5000 Annual List of America's Fastest-Growing Private Companies for fifth consecutive year
August 16, 2022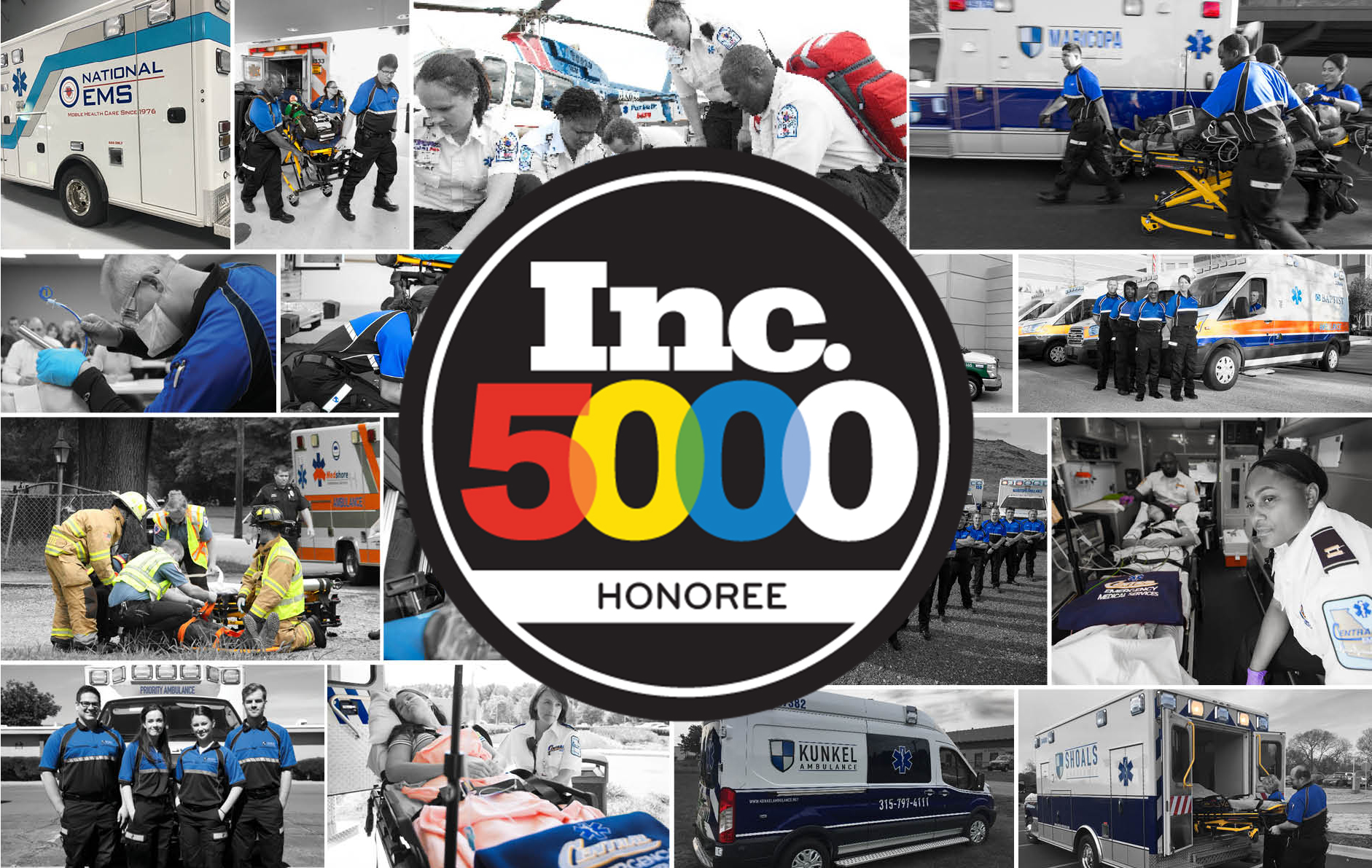 KNOXVILLE, Tenn ( Aug. 16, 2022) –Inc. magazine revealed today that Priority Ambulance earned a place for the fifth consecutive year on the prestigious Inc. 5000 list, a respected ranking of the fastest-growing private companies in America. Founded in 2014, Priority Ambulance has been recognized on the Inc. 5000 list every year that it has been eligible.
"Through the impactful, essential work that our EMTs, paramedics, nurses, dispatchers and support staff do daily, we have expanded access to medical transport and mobile healthcare to more patients each year – delivering on our mission to deliver safe, accountable, friendly and efficient care," said Priority Ambulance CEO Bryan Gibson.
Companies on the 2022 Inc. 5000 list are not only successful, but also demonstrate resilience amid supply chain challenges, labor shortages, and the ongoing impact of Covid-19. Among the top 500, the average median three-year revenue growth rate was 2,144 percent. Together, those companies added more than 68,394 jobs over the past three years.
"The accomplishment of building one of the fastest-growing companies in the U.S., in light of recent economic roadblocks, cannot be overstated," says Scott Omelianuk, editor-in-chief of Inc. "Inc. is thrilled to honor the companies that have established themselves through innovation, hard work, and rising to the challenges of today."
In 2021, Priority Ambulance welcomed First Call Ambulance in Nashville, Tenn., to its family of companies and secured several new 9-1-1 and interfacility transportation contracts, solidifying the company's place as the largest ambulance provider in Tennessee.
"We empower our leaders and clinical professionals to provide excellent service to patients, healthcare customers and local communities. Building on that trusted foundation, we added new technology tools through our recent expansions into telehealth, software development and mobile healthcare," said Gibson. "As we look to the next five years of growth, we're positioned to continue to expand access to care and deliver healthcare directly to our patients beyond the walls of medical facilities and even our ambulances. We're excited to be a leader in the future of healthcare."
In 2021, Priority Ambulance launched Priority OnDemand, an integrated vertical expansion with health care logistics software and telehealth platform acquisitions. The Priority OnDemand platform builds on Priority Ambulance's foundation as a primary 911 ambulance provider to communities representing more than 3 million Americans and broadens the levels of care in conjunction with our hospitals, communities and first-response partners.
Today, the Priority family of companies serves more than 600,000 patients annually in 14 states. More than 4,100 paramedics, EMTs, dispatchers, nurses and support teams staff more than 830 emergency response vehicles throughout the country.
About Priority Ambulance and Priority OnDemand
Priority Ambulance is a dynamic, rapidly growing health care company with current medical transportation operations in 14 states and has been listed for four consecutive years on the Inc. Magazine's list of the 5000 Fastest-Growing Private Companies in America. Priority Ambulance's EMTs, paramedics, nurses and support teams deliver exceptional patient care and customer service to more than 600,000 patients each year. Throughout its national service area, approximately 4,100 highly trained paramedics and EMTs staff a fleet of more than 830 state-of-the-art ambulances and support vehicles. For more information on the Priority Ambulance family of companies, visit www.priorityambulance.com.
Built on the proven foundation as a national leader in EMS and medical transportation, the Priority OnDemand technology platform creates important connections across the continuum of care that solve challenges and reduce inefficiencies for patients, providers, hospitals and healthcare facilities, communities and insurers. Priority OnDemand integrates telehealth and patient logistics software solutions to EMS and medical transportation services. For more information on the integrated technology platform, please visit www.priorityondemand.com.